Let's face it, everyone loves a porn newbie – and this time my mates at My Dirtiest Fantasy have got a real fucking treat for us in the shape of young Jacob Moon.
What's more, he's been skilfully teamed up with the insatiable Izan Loren, a firm favourite at the site and a man who always proves that there's much more to him than his deafness. Indeed, I really can't think of anyone better to take Jacob's porn virginity; and rest assured my dick was throbbing right from the off, as the two lads kiss and smooch like a couple of young teens.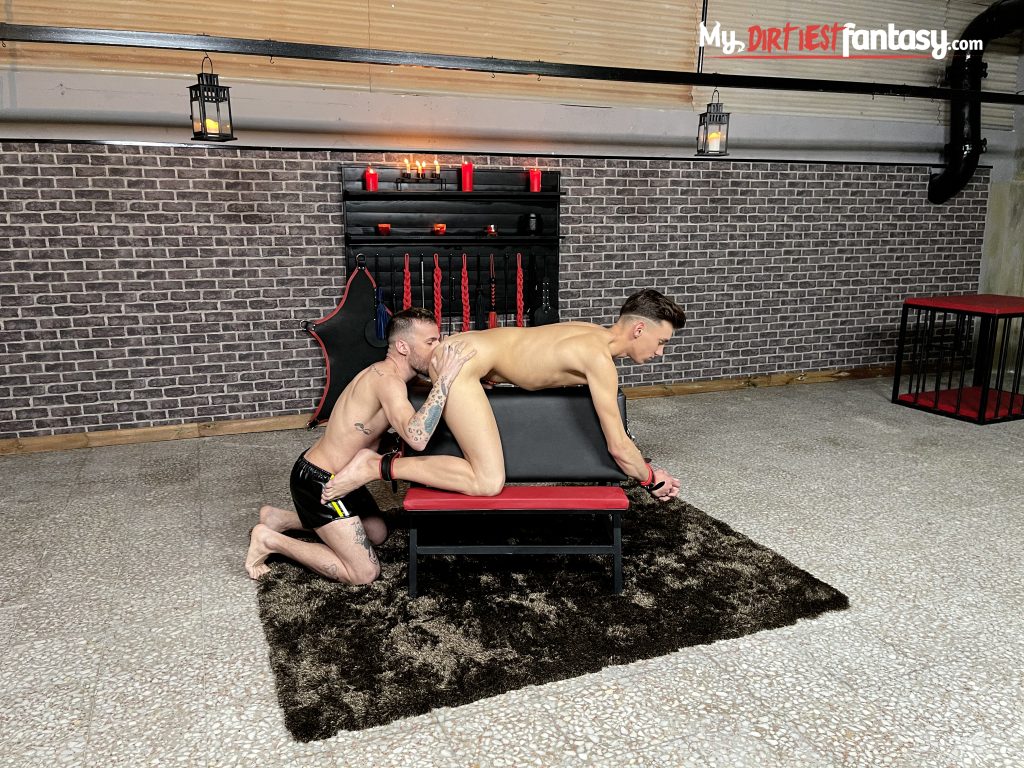 Don't for one minute think this is gonna be a nice vanilla encounter, however. Okay, so Jacob's new to the site, but the producers didn't hold back for one second. They clearly expected the youngster to put on a top notch performance for their buck – and believe me he doesn't disappoint for a single fucking second!
Suffice it to say the lad's down on his knees in pretty much next to no time. Slurping away on Izan's handsome, uncut schlong like a veritable pro; before allowing his newfound buddy the opportunity to return the favour just as equally a few minutes later.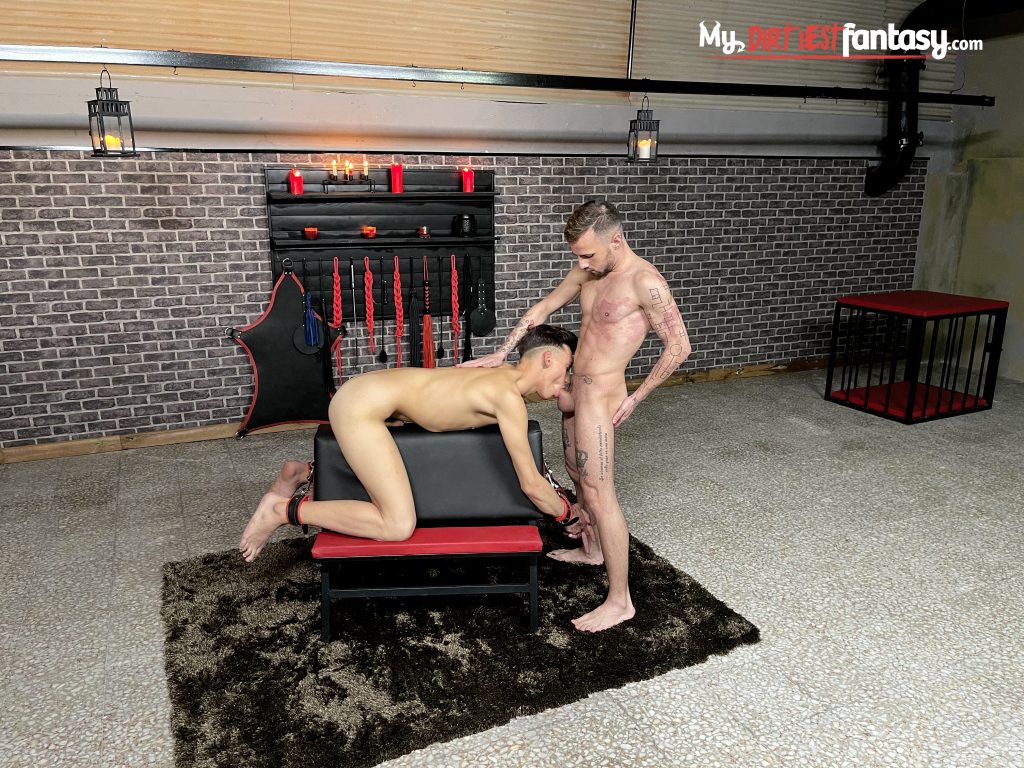 But it's not until the young lad has been strapped to a bench that things really start to heat up dramatically in this pairing; at which point the old pro gets out his whip and gives the lad a good taster of the hard fun to come. Of which there's a bountiful amount, it has to be said.
And one of the main talking points for me – amongst several, to be honest – is the absolutely fantastic rimming that Izan gives the young pup. Honest to God, that old pro doesn't hold back for a second; diving in to the max, and giving that porn-virgin ass the kind of deep tonguing that surely every young arse deserves at least once in its life. Little wonder that the youngster is quite literally gagging for hard dick by the time that Izan has finished. Seriously, that boy can't get himself stretched quick enough!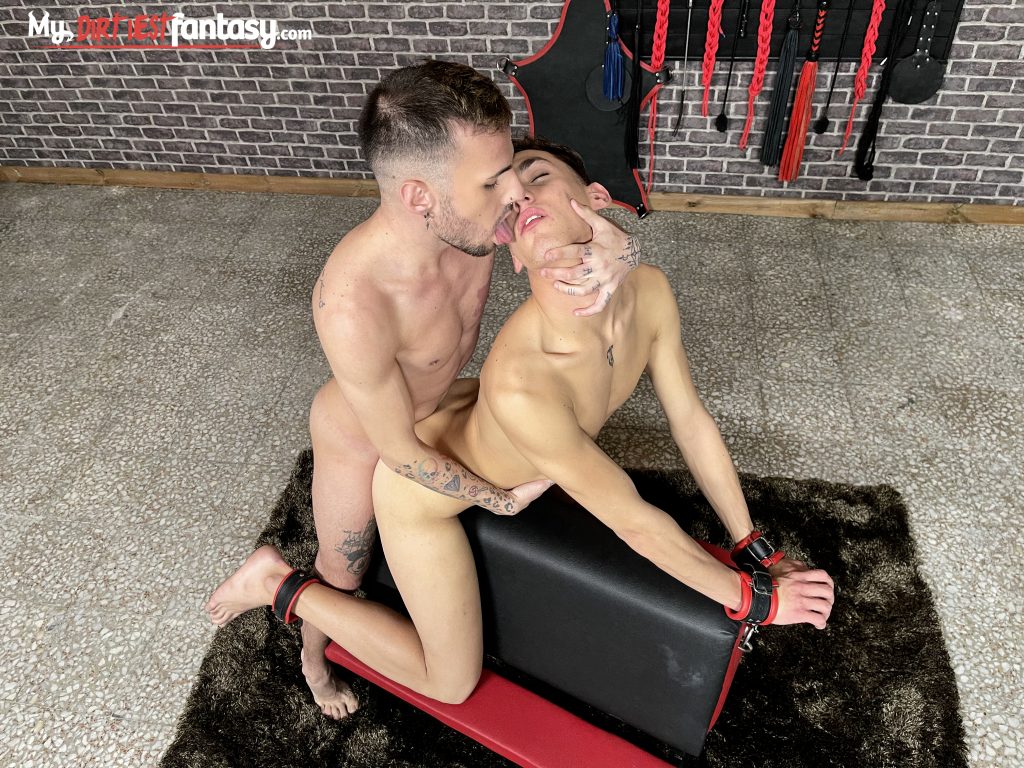 Fortunately for him, and for the legion of fans at My Dirtiest Fantasy, Izan is more than equipped to finish the task; thrusting every hard, raw inch into Jacob's boy-cunt with the kind of gusto that clearly takes the lad's breath away. What's more, the fact that the horny stud had plonked a ball-gag into the boy's mouth makes the whole affair all the more sordid and all the more fucking wonderful. So much so, in fact, that it's really very little wonder that Izan is soon blasting a veritable tidal wave of pent-up baby-batter all over Jacob's rear, before sticking his spent dick back inside to ensure that all that spunk is pushed up as far as it will fucking go!
Believe me, I just seriously love, love, love it when that kind of thing happens!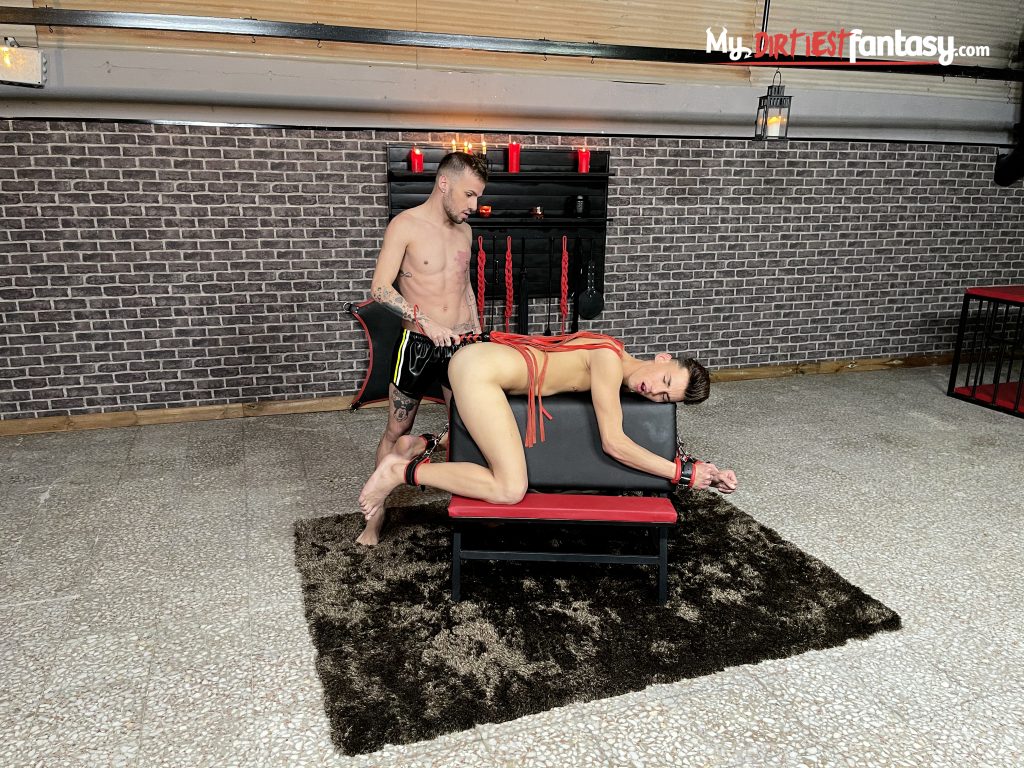 As does young Jacob Moon by the smile on his face at the end. Yeah, something tells me that we'll be seeing a whole lot of more of that horny little fucker before much longer. Fingers crossed!