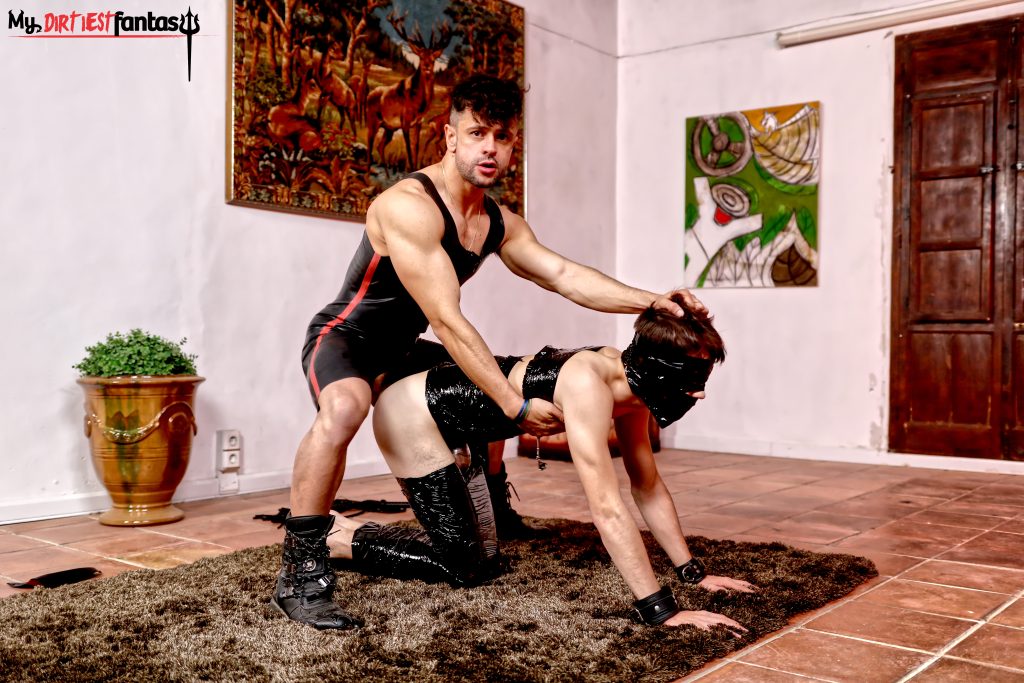 Not being able to move at ALL is a huge turn on for many people, however mummification is not just about restricting the submissive. It can also be used to create mild to complete sensory deprivation for the slave forcing them to focus only on the few sensations the Dominant chooses to provide. This can lead to a truly enhanced sense of arousal as the slaves mind quiets, any form of stimulation becomes amplified as the submissive has nothing else to focus on or distract them from what their Dominant is doing.
There are many different types of materials that can be used for mummification. Some are found in your home while others are sold specifically for this activity. Some favorite materials including plastic wrap, duct tape, medical bandages, bondage tape, leather binders or straitjackets.
Types of Mummification
There are three basic types of mummification, Zone, Limited, and Full Body.
Zone Mummification is where specific areas of the body are wrapped.. This technique is a good start for beginners to get the sensation of being constricted. For example binding a leg whilst bending it thus limiting the mobility of that limb.
Limited Mummification is where the body is wrapped only from the shoulders down to the feet. The head is not wrapped. This is ideal as a second step after trying the Zone Mummification as neither mouth or nose are covered, and your partners eyes can be blindfolded, or not.
Full Body Mummification is an extreme form of bondage, and it is the most dangerous, so extra precautions should be taken by the dominant to ensure safety. With full body mummification, the submissive is wrapped from the top of the head to the bottom of the feet. Some type of breathing device must be used for the safety of the submissive.
This form of mummification can be disorientating and thereby mess with the submissive psychologically during and after and can cause long-term emotional trauma if not done properly.
Try to imagine the psychological impact that being trapped within a tightly wrapped container with no way to escape as an individual with no knowledge of what they are doing stands above you and does nothing to help. This horrific experience can lead to longer term forms of anxiety, mistrust, and depression to only name a few.
Full body mummification should not be tried by beginners.
Before Wrapping
Always trust your instincts, if you don't feel comfortable or feel uneasy you can say "stop", "no thank you" or "I am done playing" at any time. Don't ever let anybody tell you, you can't stop a scene at any time or you have to participate in activity you are not comfortable with.
Trust is essential to mummification, one person is going to be completely immobilized and helpless for who knows how long. If you wouldn't leave your wallet or purse unattended with a person you do not know, chances are pretty good you shouldn't trust your life with them. Therefore it is crucial you know the person you are playing with and trust them, and that takes time.
Mummification with someone you don't know or trust is extremely risky.
Mummification is not a quick process. Plan at least thirty minutes to wrap the submissive, at least 10 minutes to an hour to leave them wrapped, and 15 to 20 minutes to free them.
The dominant will need approximately 100 yards of cling wrap, a few yards of duct tape, a head mask, cotton balls, Ace bandages, and a pair of EMT scissors. Have these on-hand before you start wrapping, nothing destroys the mood of a scene like laying around as your partner tries to find all their supplies.
Find a comfortable place where your partner can lie down. This can be a bed, couch, or other flat surfaces.
Find out if your partner has any form of clastrophobia. If so this is not the kind of play for them.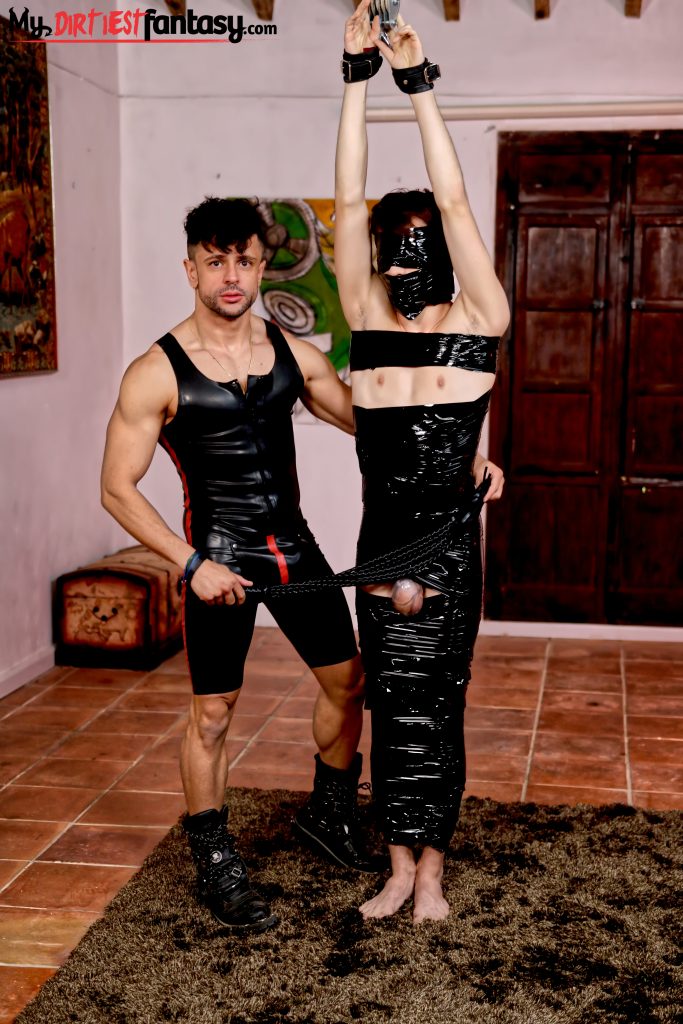 Limited Mummification 
As previously mentioned in the Limited Mummification the head is not wrapped, but the submissive can wear a mask, hood, or blindfold. Have the slave naked while wrapping, so they can feel the wrap applied to their body can help to create a more submissive head space.
Wrap the torso a couple of times pulling the wrap tight. While you can wrap across the chest, you might find it can become extremely easy to make the wrap too tight as you pull along the torso. Try not to just wrap the chest itself but crisscross the shoulders and chest. This allows for a little more breathing room in the wrap.
Have the submissive put their arms down and wrap again. Make sure it is nice and tight, but not so tight that it obstructs the ability of the submissive to breathe. Every time the wrap is crossed over the chest and back, having the submissive take in a big breathe and holding it as the wrap is pulled over will help to ensure the wrap is never so tight to restrict their ability to breathe.
It is easier to apply the wrap while the submissive stands, but falling over can be a hazard.
Start wrapping at the top and work your way downwards and smooth the plastic as you wrap. Once you get to the hips, the submissive should lay down. You will need to assist them because they will not be able to help you. Have the submissive cross their ankles and continue to wrap all the way down.
Remember if you choose, you can always leave several strategically placed unwrapped areas for play! This could include the nipples and/or the ass and genital areas.
Make sure you leave the nasal and mouth areas open and free of any obstructions to ensure there are no breathing problems. Since the submissive cannot move, check these areas often, always monitor their breathing and their face for signs of stress and panic.
If both partners enjoy the sensation of having the wrap, or tape cut off key areas of interest after being wrapped having a protective barrier to help to make sure the submissive is not hurt while exposing these areas is always a good idea. Having a small towel or cotton balls covering the area of interest underneath the wrappings, such as over the nipples, genitals or other areas will protect that area in case the Dominant accidentally cuts too deep. Giving you both more room for safety.
Full Body Mummification
Similar to the limited style, but the head is also wrapped. This type of mummification requires some type of assisted breathing device because the nose and mouth are restricted. Large holes for breathing are recommended for safety concerns.
Cotton balls, cloth, blindfold, headphones, ear plugs, ear muffs or ear protectors can be placed over the eyes and ears to not only protect them, but to increase the sensory deprivation experience. With no light or sound and a complete lack of mobility, producing a floating like experience.
The mind which is normally always overworking as it deals with images flooding the visual cortex, noise blasting against the eardrum and the constant need to control muscles to keep the body balanced are finally silenced. The mind for the first time is now allowed to freely float into the recesses of the mind unhindered by the constant noise of the surrounding world. Many people feel complete freedom not only from the world but from themselves.
For a more intense experience, wrap each limb first and then wrap the limbs to the body.
If you want to watch some hot mummification action… come to visit our specific category!