Easter Celebration!
For Christians all over the world, Easter marks the commemoration of the death and resurrection of Jesus Christ. To help mark the occasion, the guys at www.mydirtiestfantasy.com have come up with a kinky addition to their website. One you sure as hell won't want to miss. As the promo says, your prayers have most definitely been answered.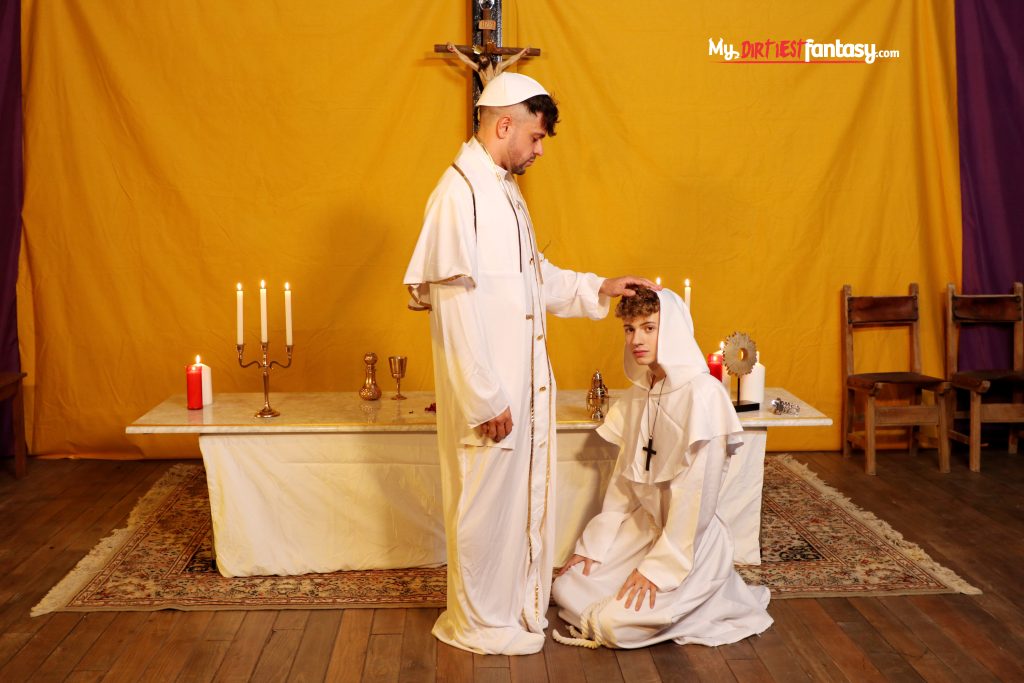 What's more, it another fantastic two-parter, which always adds to the pleasure.
Filthy and Provocative
Those of a more sacrilegious nature may wanna look away. But we've a sneaking suspicion there aren't gonna many fans of www.mydirtiestfantasy.com who will be too bothered. This kinky addition is deliberately provocative. Which, if anything, makes the encounter between Leo Marco and Gabrix Volpe even fucking hotter!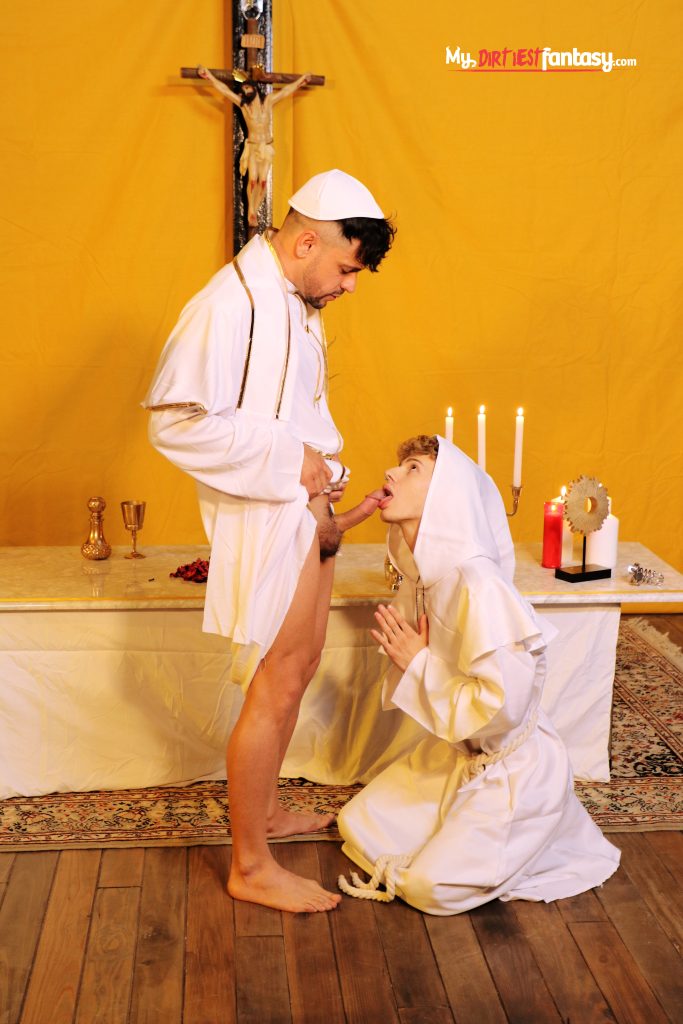 Inspired by John's gospel, where Jesus tells his disciples to love one another, these two lads do exactly that. But believe us, there's nothing mundane or vanilla about the love displayed here. Fact is, these boys are definitely a couple of very kinky buddies. Indeed, it doesn't take many minutes before they're both out of their flowing white robes to enjoy the pleasures of hard cock.
Which for Gabrix means getting down on his knees and slurping on Leo's handsome ramrod!
Cross Fuck!
After which delight the kinky additon of a cross is put to very good use. Gabrix pushed hard up against the wood so that his mate can push his hard wood deep inside his hole!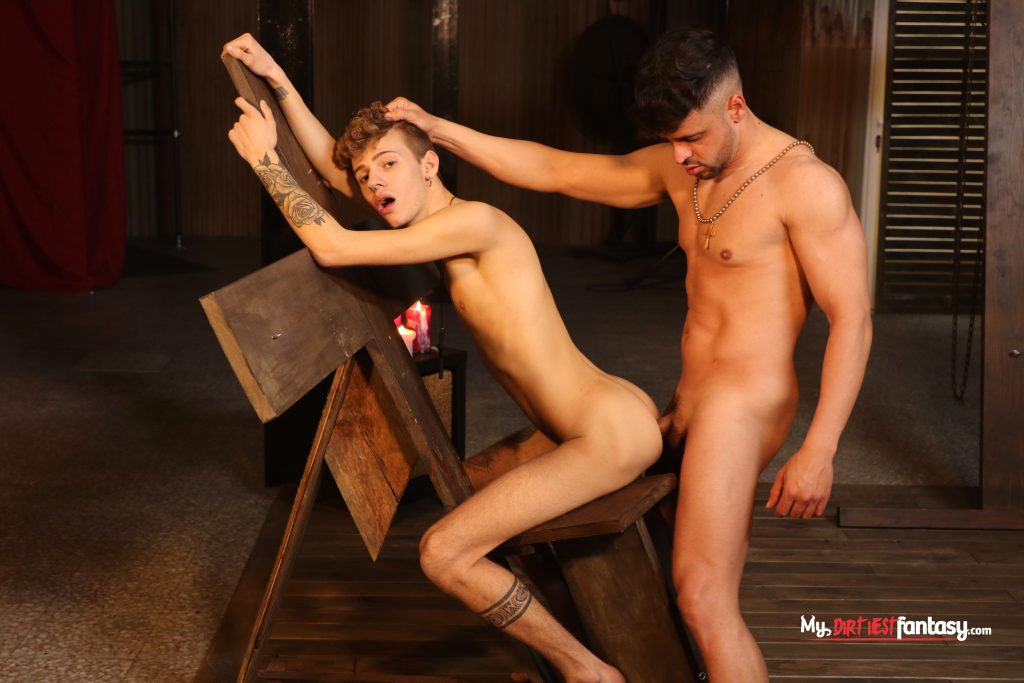 Cue a fantastic, chain-strained fuck that will have you filthy worshippers wanking like fury. No doubt about it, this is definitely a scene you won't wanna miss for a single second. Easter eggs or no Easter eggs!
Cumshot Extraordinaire!
But what topped all this off fabulously for me was Leo's truly stupendous cumshot. Fuck me, it's a real treat for any fan of money-shots. Indeed, I can't help feeling that young Gabrix was a little taken by surprise. Blasting out at the speed of light, it nigh on almost blinds the poor lad. A real generous multi-squirter that leaves the boy's face drenched in man-love! Literally!!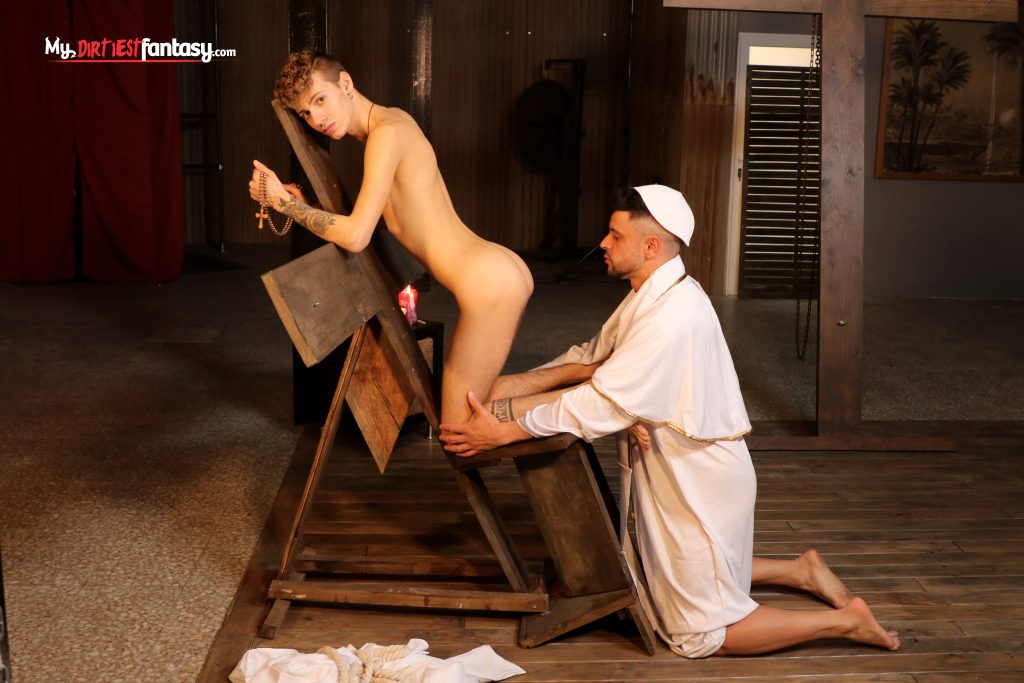 Seriously, this is one fucking hot scene that you won't wanna miss for a second. So head to www.mydirtiestfantasy.com right now and enjoy every filthy, disrespectful, profane second of this kinky addition. Your souls really will thank you for it, believe me.
And even if your soul doesn't, your cock definitely will!