I'm not sure about you guys, but do you know what I love about Angel Black? It's his fucking smile, man. Seriously, that smile could literally have me begging from the lad's hand. What's more, he knows how to use it. The way he flashes it up at handsome Italian stud, Leo Marco, right at the start of this fucked up escapade – geez, the boy works it like a pro!
But as anyone who follows My Dirtiest Fantasy will know, Angel – whose name is fucking perfect if you ask me! – is the kind of 18 year old who likes to do the begging, not the other way round. As such, teaming him up with Leo is fucking perfect. After all, the Italian stallion is very much a man who likes to be in control, and who really gets off achieving that goal.
As such, this pairing is absolutely a match made in bondage heaven!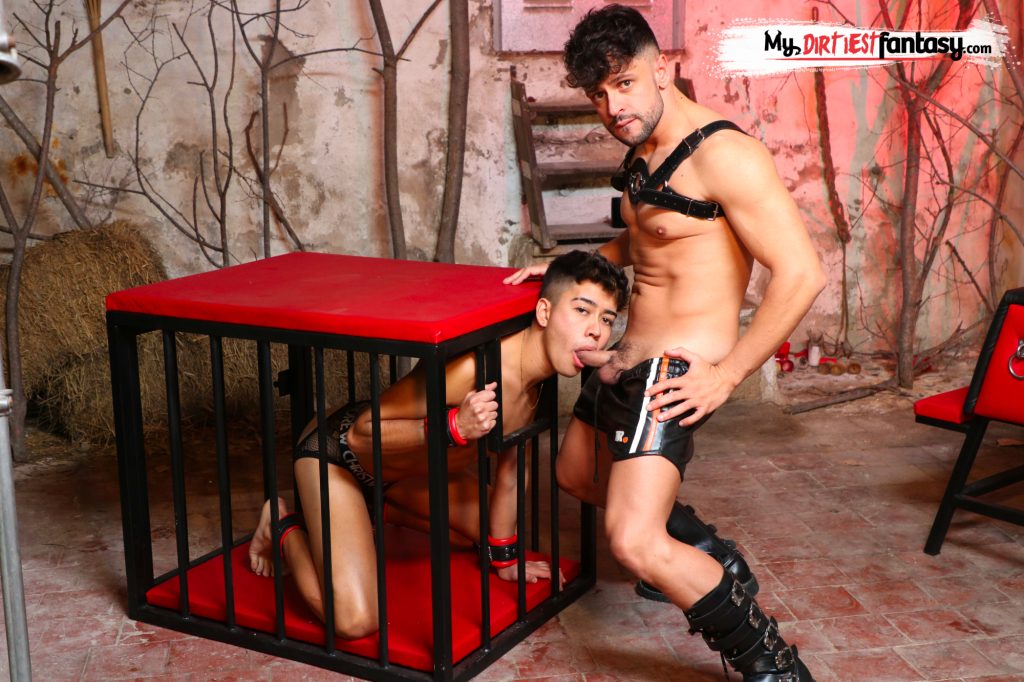 Things get off to a perfect start when Leo bundles his young charge into a cage, forcing the lad to suck on his dick like the total whore he's always wanted to be. Not that the fellow from Rome is gonna want to keep him locked up for long, of course. No, you can tell from the look on his manly face that he wants to give the lad the kind of no-holds-barred fucking that he deserves.
And as we all know, Leo Marco is armed with exactly the right sort of equipment.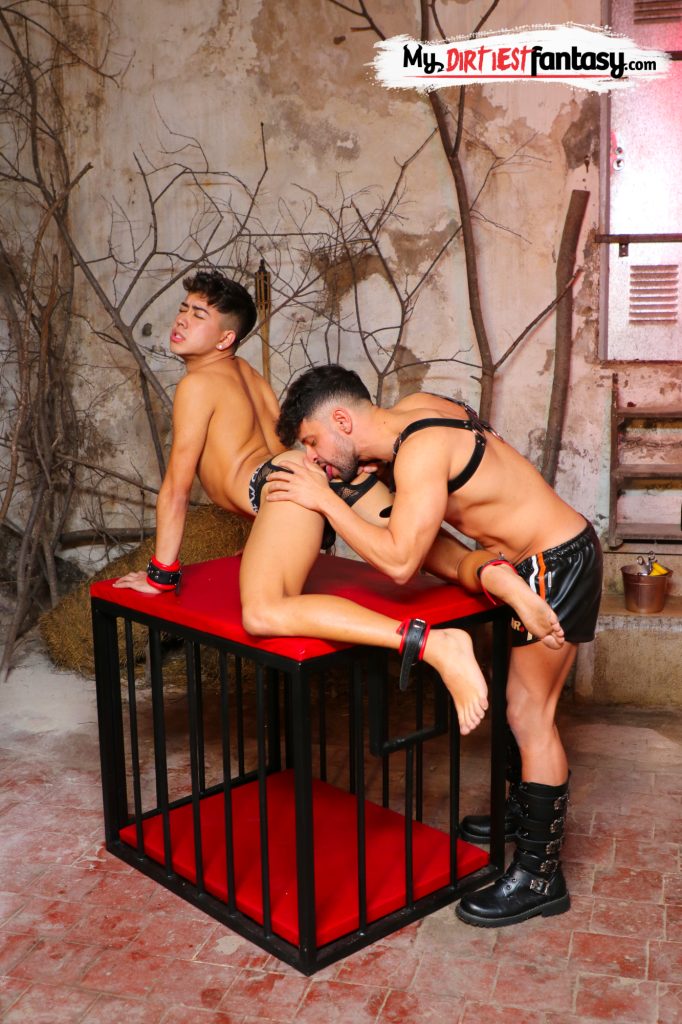 So after pulling Angel out of the cage, bundling the boy onto his knees and rimming him with real, manly gusto, it's time for Leo to mark his territory, so to speak. And believe me, it's fucking brilliant!
The sight of Leo's monster shaft ramming hard into Angel's hole is horny enough surely; but when the dom decides to spice things up a little by clipping the lad to a fuck bench, that's when things get seriously out of hand. Fuck, the sight of that booted demi-god hammering away for all he's worth – first down Angel's eager throat, and then up Angel's hungry arse! – is absolutely unforgettable.
Believe me, I was jerking like fucking crazy watching it. And it wasn't just a one-off!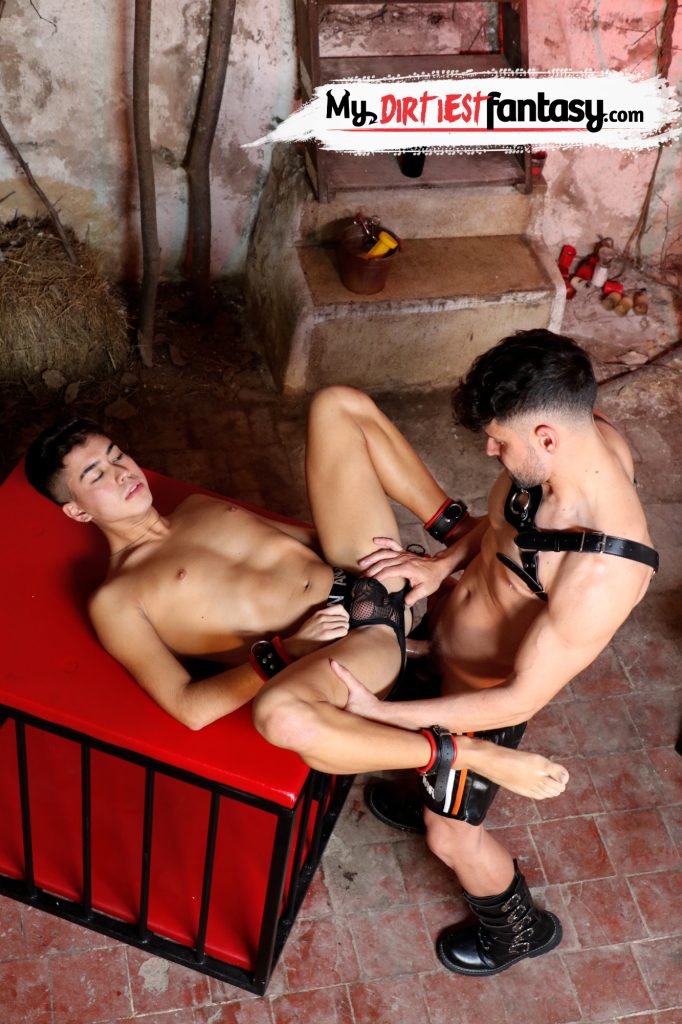 As for Leo, well if you're wondering if he enjoyed the encounter as much as he said he did, then let his cumshot do all the talking. Believe me guys, he fucking explodes! Leaving Angel's arse and back quite literally dripping with a tsunami of cum that I'm told took a age to clean up.
Fact is, those thick ropes of hot baby-brew got fucking everywhere. Christ knows what the cleaner thought! LOL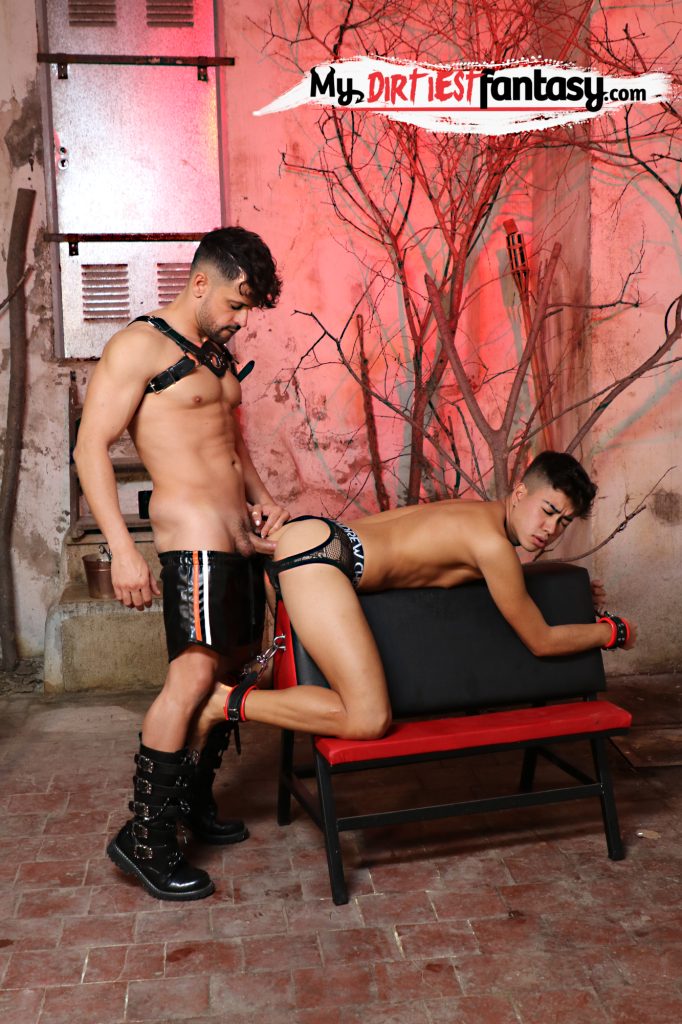 Take it from me, this is one hell of a hot scene. It's exactly the kind of filth for which My Dirtiest Fantasy is now crazily famous for, and I've literally pumped my wad a dozen times to it already.
Which is quite a compliment, believe me, coming from someone who's fucking seen it all!