I can't help feeling that there's was a bit of a joke going on when my mates at My Dirtiest Fantasy decided to team up this pair of gorgeous fuckers – after all, it's a case of the Sun eclipsing the Moon, when you think about it! Whether that was exactly intentional or not will forever remain a mystery; but rest assured that the action that ensues is blisteringly hot. Indeed, I pretty much managed to dump several loads in the first viewing, and take it from me I'll be watching it over again just to make sure that I've squeezed every last drop of pleasure out of this terrific performance. And that it's squeezed every last drop out of me! LOL
Now it pretty goes without saying that Cody's in tip top dominant form right from the very moment that he trundles up to the bed and pushes Jacob down onto the mattress – but then what the fuck else would you expect? This guy's a chap who likes to be in charge in the bedroom (not to mention everywhere else!) right from the start; and the fact that he's been paired up with a lad who likes to be dominated in every sense makes the chemistry between these fellas absolutely perfect.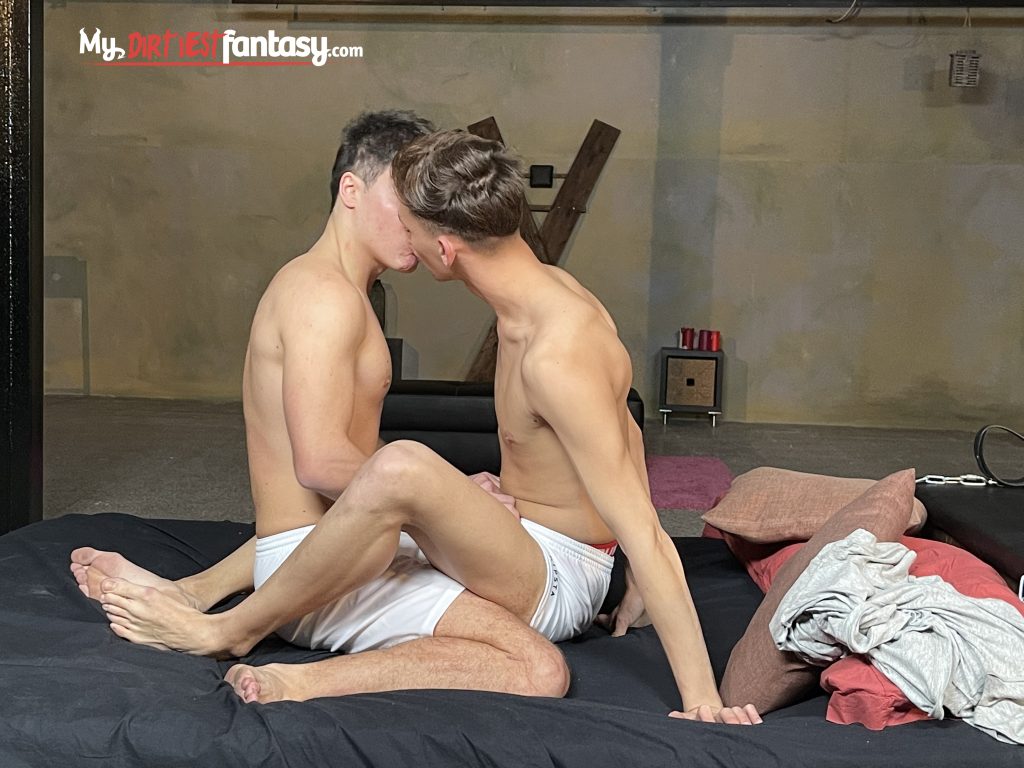 Indeed, I defy anyone who loves this kind of action not to have their dick out right from the off as these two smooch and play for the very first time. But let's be honest here, don't expect the foreplay to be too extended. Cody's a guy who likes his cock to be worshipped quickly, and Jacob's a boy who can never wait to get inside another chap's pants, so take it from me it isn't very long at all before some terrific oral worship is being demonstrated for the world at large.
Not that these boys care – natural-born exhibitionists that they are!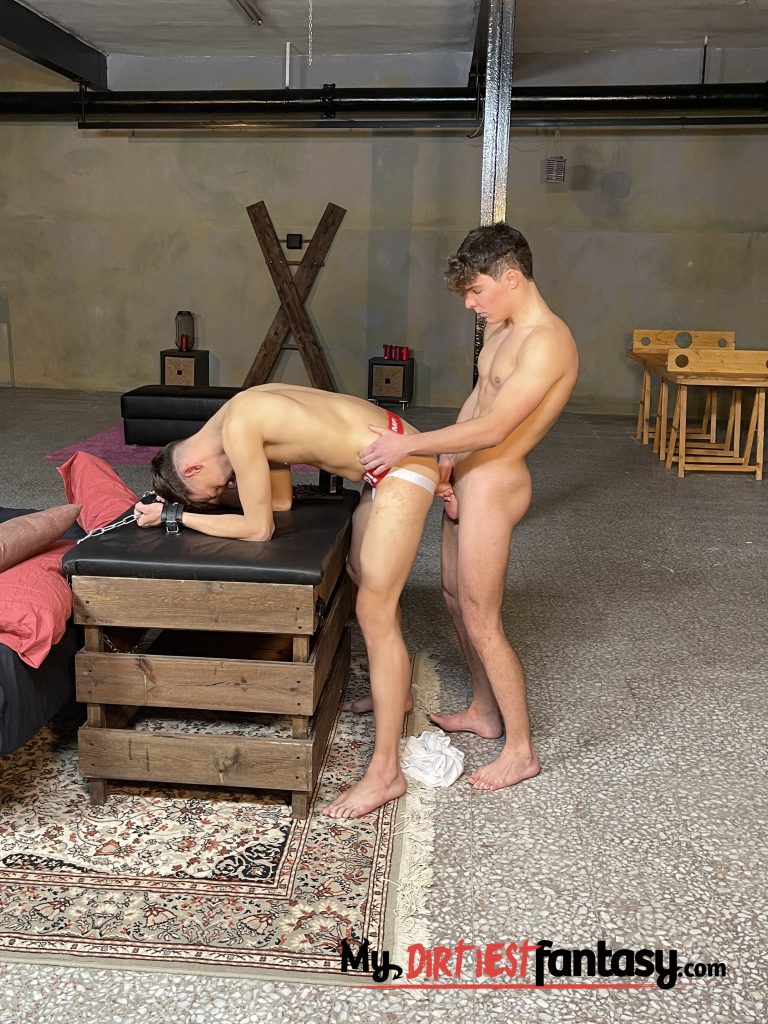 Suffice it to say that what follows is just mind-blowingly – not to mention cock-throbbingly! – hot, with Cody taking total control as he literally whips his buddy into shape, then thrusts his hard dick into his buddy's fuck-hole. Honestly, I'd already exploded by this point, and was wanking like fury once again; and I've not got a single doubt in my head that you'll be doing exactly the same. Honestly, I could quite simply watch these sluts in action all fucking day!
I'm still not sure what excited me the most. The sound of Jacob moaning as he gets pounded for all he's worth. The noise of the chains rattling away as the young bottom gets pummelled. Or the grunting, animalistic climax of Cody pumping a terrific wad of pent-up spunk deep into Jacob's hungry little arse. In truth, it was probably a mix of all three, but I'd love to hear your feedback on what turns you on the most. As would be boys at My Dirtiest Fantasy, I'm absolutely sure.
All in all, then, another five star, stellar performance from some of the hottest sluts in the biz – and one that I sincerely can't recommend enough. All nicely topped off with the kind of jizz-dripping ass that wet dreams are made of. Who could ask for fucking more?